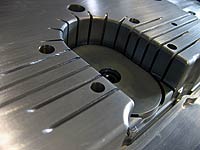 Ohio Precision Molding provides complete injection molding design services for many plastic part applications. Our engineers remain on the forefront of plastic part and injection mold design engineering technology.
The Injection Mold Design Process
Our injection mold design process starts with our technical mold design experts providing our customers with innovative ideas. If customers already have ideas and concepts, we create 2D or 3D CAD models that incorporate full part geometry designed for optimal part manufacturing.
Once the part design is finalized, it moves to the mold design process. Our rapid prototyping allows proof of concept for mold design to create a finished plastic part. This allows for a more cost efficient design process, allowing for multiple iterations to incorporate any modifications.
Injection Mold Production Tooling
Once the mold design is optimal, injection molds are usually constructed using either steel or aluminum and are precision-machined from the design to make the finished part.
Complete Injection Molding Design to Production Solutions
Our custom mold capabilities can be tailored as a complete turnkey solution or as a collaborative effort with our customers during the design process. This includes optimizing materials, finishes and machining operations while also managing product development and lifecycle costs.
Our in-house injection molding experts also provide full-service capabilities including managing the entire project, meeting production capacity, providing product assembly and decoration. We have in-house rapid prototyping, short-run and high-volume manufacturing capabilities for any size requirements.
Our combined years of expertise, state of the art equipment, cutting edge software and deep material experience allow us to be extremely competitive.